Every year at Princess Divers we offer a limited amount of FREE Divemaster Internship places to young enthusiastic individuals who wish to achieve the PADI or SSI Divemaster certification. We are looking for applicants who are team players and willing to learn, work hard and share our passion for scuba diving and the underwater world.
What is the Divemaster Internship program ?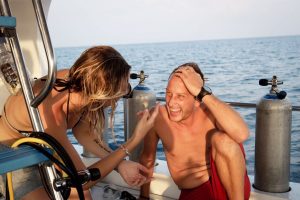 The Princess Divers Divemaster Internship program is your chance to get your first Professional Scuba Diving certification in a real fully operational Dive Center in one of the worlds top Scuba Diving locations. During your time with us you will learn all the aspects and day to day goings on in a busy working Dive Center, not some college classroom, talking about the real world. Most of your time you will be on the boats with real customers assisting our team of Instructors in the day to day operations of a busy Dive Center.
You will learn what it takes be a professional Scuba Diver. You will hone your diving skills, perfect your Rescue Diving techniques and learn how to demonstrate skills to novice divers. Once certified you will become a member of our staff working as a professional diver alongside our Instructors, you will assist on a wide variety of PADI or SSI Dive courses and you will also learn how to guide dives on Phi Phi Islands world famous dive sites.
Becoming a Divemaster is a great accomplishment and as you enter the ranks of leadership level diving you will feel proud of your achievement. During your Divemaster Internship at Princess Divers you will gain the experience and confidence to call the Ocean your "Home and Your Office", or living the Dream as many of us choose to call it. Our Divemaster Internship allows you to Get trained, Get Certified and Get experience as a Professional Divemaster, without the expense. As you travel the world working and diving you become an ambassador for Princess Divers and the Instructors that taught you.
Important Note : From the 1st of January 2018 the Thai government will start to implement new laws regarding Foreigners working illegally in Thailand. The new penalties are very harsh with large fines and possible jail / deportation. As a responsible business Princess Divers has made important changes to our Internship program to comply with these new laws.
Why do we only offer a limited amount of free Divemaster Internships ?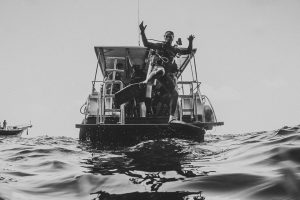 The simple answer is quality not quantity, we are not looking to create a "Divemaster Factory" we are looking for young enthusiastic candidates who want to to become professional Scuba Divers and work in the Diving Industry. Depending on the time of year we normally start 3 or 4 new Divemaster Interns each month, working as a Divemaster is not for everybody and this is not a holiday program, you must be comfortable in the water, willing and able to work hard in conditions that sometimes can be stressful and challenging.
Our Divemaster Internship program has become well known worldwide for producing quality Divemaster's and thus we receive a lot of applications for these limited places, We are not looking just for the numbers, we are looking for the right people to become a part of our team and who we are proud to call our staff and take care of our valued customers.
How long is the Internship Program ?
This depends on your current experience level and number of logged dives. The Divemaster Internship is usually between 3 and 4 months including days off or sick days.
Why Choose Princess Divers ?
No 60 Dive limit.
We will only certify you when we are 100% confident that you are ready to be called a Divemaster and represent our company by Diving with our valued customers. Some Internship programs charge extra for dives if you go over the "60 dive limit"
No 4 Week limit.
Everybody who arrives, has a different level of experience and number of dives, and everybody learns at a different pace, we certify you only when you are ready, not by a set time limit.
No Shop Work.
It is illegal to work in Thailand without a work permit, these are only available to Instructors who can commit to 6 months or longer. In the past this has been overlooked and Dive Centers allowed people to work selling during their Internships, from the 1st of January 2018 the Thai authorities have made it clear this will no longer be tolerated and will check from time to time without warning.
Filling Tanks / Cleaning Equipment.
Many Internship programs use Interns for filling tanks and cleaning dive equipment after a days diving, this is actually illegal in Thailand to protect jobs for Thai people. Dive Centers offering you this are putting you at risk of breaking the law, just so they can save money on employing Thai staff.
Limited spaces available.
We are interested in quality not quantity, don't become part of a "Divemaster Factory" stuck with limited Dives and sitting in a shop or cleaning equipment day after day. We are only looking for 3 or 4 new Interns each month.
Includes Basic Dive Equipment for whole Internship period.
We don't force you to buy a full set of equipment before starting your course, this is common practice among many Dive Centers worldwide, we will provide if needed a BCD, Regulator and Wetsuit to any students that don't have their own. Both PADI and SSI standards require that all Divemaster students own a few basic pieces of safety equipment when starting the Divemaster Course.
Dive Computer
Mask & Snorkel
Fins
Surface Marker
Knife
Compass
If you don't currently have these items then let us help you with our large range of equipment for sale here on the Island, We offer big discounts on the manufacturers prices and expert advice on good value equipment. These are all personal pieces of equipment that help you to look more professional and help you to feel more comfortable, you will eventually need your own equipment as you step out into the big wide world, so choosing wisely is important.
Become part of the Sea Shepherd Dive Team
An exciting addition to Princess Divers is our partnership with Sea Shepherds and Thai National Parks. Princess Divers was one of a small number of responsible Dive Centers chosen worldwide by Sea Shepherds to help launch the new Sea Shepherd Dive Program in Thailand. We were the first Dive Center in Thailand to begin teaching the new Sea Shepherd Coral propagation course. This will be done in partnership with the National Parks of Thailand research department.
Ok, What's the catch you might be thinking ?
Honestly there is none, Once you are certified as a Divemaster you will work alongside our Instructors as one of our Divemaster team for the remainder of your course period. During this time you may be assisting Instructors on Courses, Guiding qualified Divers on Fun Dives or Taking Photo's of customers. You get the valuable experience needed to look further and apply for jobs in new locations, and the shop has a new enthusiastic Divemaster eager to Dive and learn more about there new profession. It's a "Win, Win" Situation for everybody.
Learn all aspects of a busy working Dive Center and Gain the valuable experience needed to work in the Dive Industry.
What are the requirements ?
To start the either the PADI or SSI Divemaster Course you must be minimum of 18 years old and at Rescue Diver level with 40 logged dives. If you are currently at Open Water or Advanced level, let us help you reach Rescue level here on the Island and get straight into the Divemaster Internship program after. These courses are extra and not included in the Internship program. You will need to allow 3 to 4 months depending on your experience level and number of logged dives.
If our Divemaster Internship program interests you and you would like to know more then please fill out the contact form below to tell us a bit more about yourself. Please note we receive a lot of applications for these few places, so if you wish to be considered please try to supply all the required information, this is your chance to stand out from the other applications !!